Hi guys and gals, My 05 Pre has been doing the stutter start....sometimes. Very annoying.
The local CC dealer says there is no 'faults' coming up on the Diagnostic tool.
Says it is 'possibly' the MCOR on the way out.
So me being me thought I'd have a look around and make sure there was nothing else interfering with the carts operation.
I had replaced the batteries in Sept., so was not too concerned with the state of cables as l had made sure they were OK then.(l made my own 'lifting' clips)
[IMG]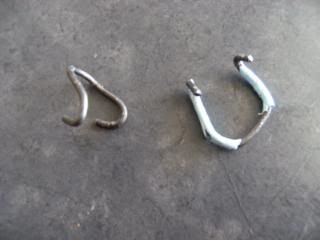 [/IMG]
and straps
[IMG]
[/IMG]
l used 'stiff' coat hanger wire for the clips. They worked a treat with those big 1275 batts. out.
l pulled the cover out of the center and had a look in at the solenoid and controller etc. Looking at the solenoid l could see a dark blue wire very close to the l/h terminal....it looked too close....l instinctively pulled it away....wish l hadn't done that. l pushed it back and grabbed the iphone to take some pics.(very handy instrument these 3GS phones)
[IMG]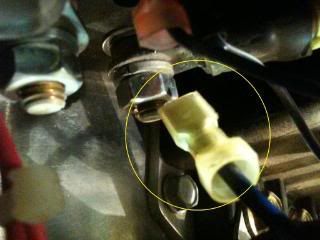 [/IMG]
l thought l could see an arc mark on the nut but could not capture it on the phone. Anyway l pulled the wire back out of the way and it is now clear....as is the terminals on the solenoid.
[IMG]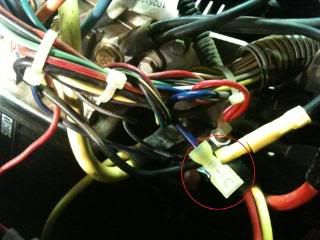 [/IMG]and [IMG]
[/IMG]
Next l saw some corrosion on the lead that goes thru the OBC...so l decided to clean it with the spray that is used to do the batt. terminals....so l sprayed the batt. terminals with a hole cut in an old singlet
[IMG]
[/IMG] [IMG]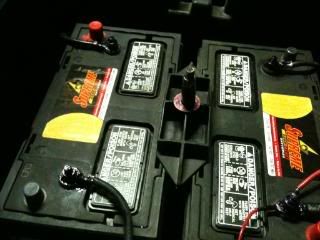 [/IMG]
and then wiped down the OBC cable, to clean it.
[IMG]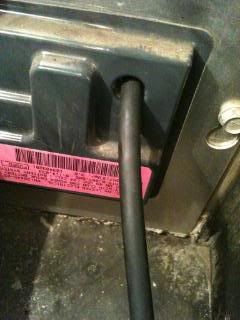 [/IMG]
Then there was the fuse holder 'floating' amongst the gaggle of wires....so l clipped out the 'cutaway' and secured it under the l/h screw mounting the 'Tow' switch.
[IMG]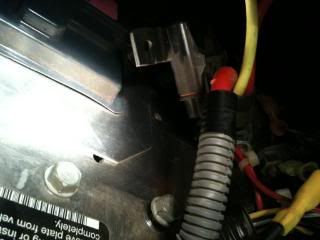 [/IMG]
Now, l know l probably haven't solved anything....but l think what l did SHOULD be done to every Precedent out there.